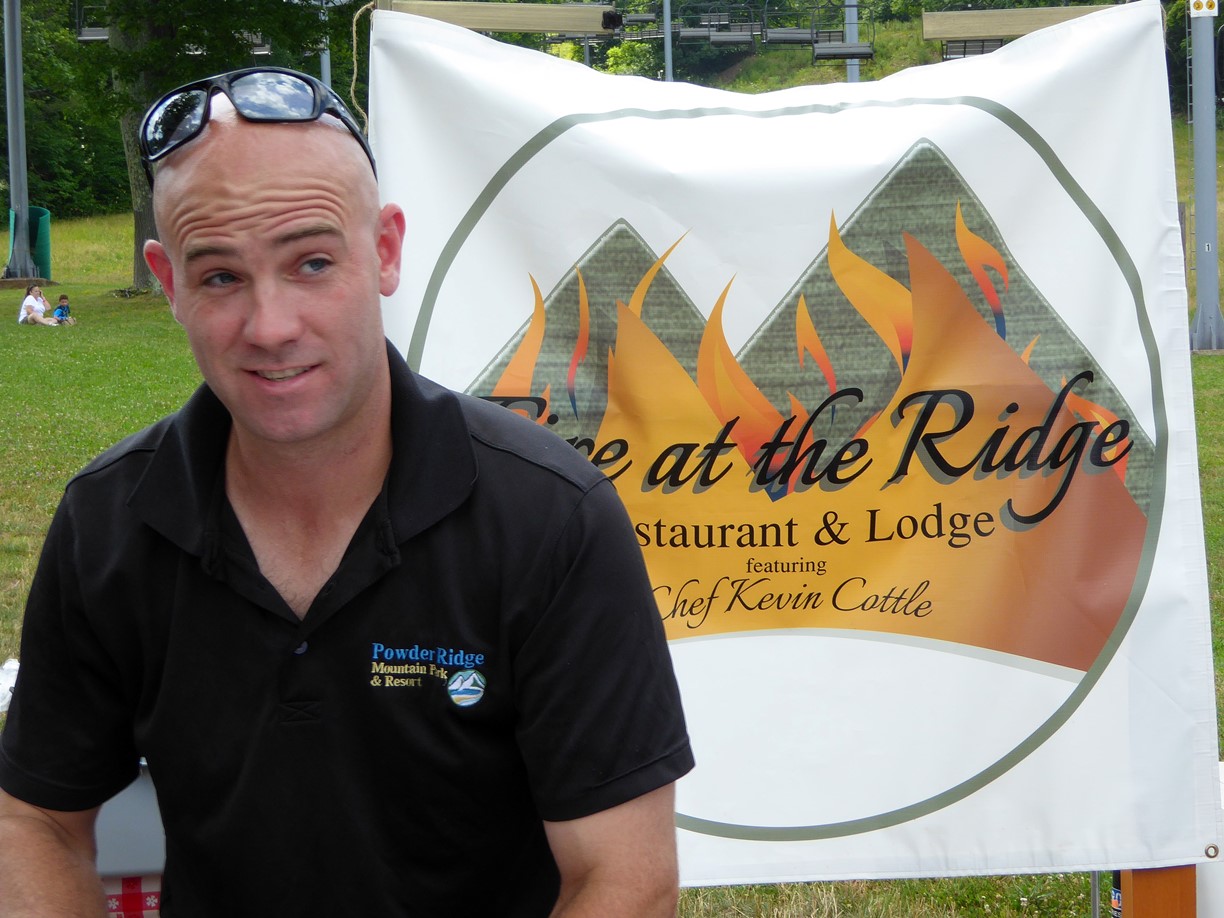 With minimal fanfare, the Connecticut BBQ Cook Off was held at Powder Ridge Mountain Park & Resort on July 25, 2015. Admission was $15, but kids under 12 were admitted for free. There was also a classic car show, live music, lift rides and a plethora of family activities. Great weather ensured a terrific turnout.
Several barbecue joints and restaurants with an interest in barbecue competed, notably host Powder Ridge's Fire at the Ridge, which is expected to open this fall and is helmed by talented and charismatic Season 6 Hell's Kitchen runner-up Kevin Cottle. Other participants included Taino Smokehouse in Middletown, Shoreline Prime Meats & Deli in Branford, Knuckleheads in Wallingford, Battlewaggon BBQ in Ivoryton, The Meat Hut in Clinton and Blackbird Tavern in Middlefield located just down the street from the event.
Among the celebrity judges was pitmaster Jamie "The Bear" McDonald, owner of Bear's Smokehouse in Hartford and Windsor, in this humble writer's opinion probably the best barbecue found in the Northeast. Tyler Anderson of Millwrights Restaurant & Tavern in Simsbury, a James Beard Foundation nominee for Best Chef Northeast, was also in evidence.
While Knuckleheads won the People's Choice Award for its barbecue, the Judge's Choice Award went to Fire at the Ridge for its incredible Vietnamese-style BBQ pork with pork pâté, pickled vegetables and cilantro. It bodes well for Fire at the Ridge when it opens.
THE VERDICT: The judges awarded Kevin Cottle's sandwich first place at the BBQ Cook Off.
FEEDBACK: Tell us about your experiences at Powder Ridge.
CONTACT INFO: Powder Ridge Mountain Park & Resort, 99 Powder Hill Road, Middlefield; 860-349-5454; powderridgepark.com