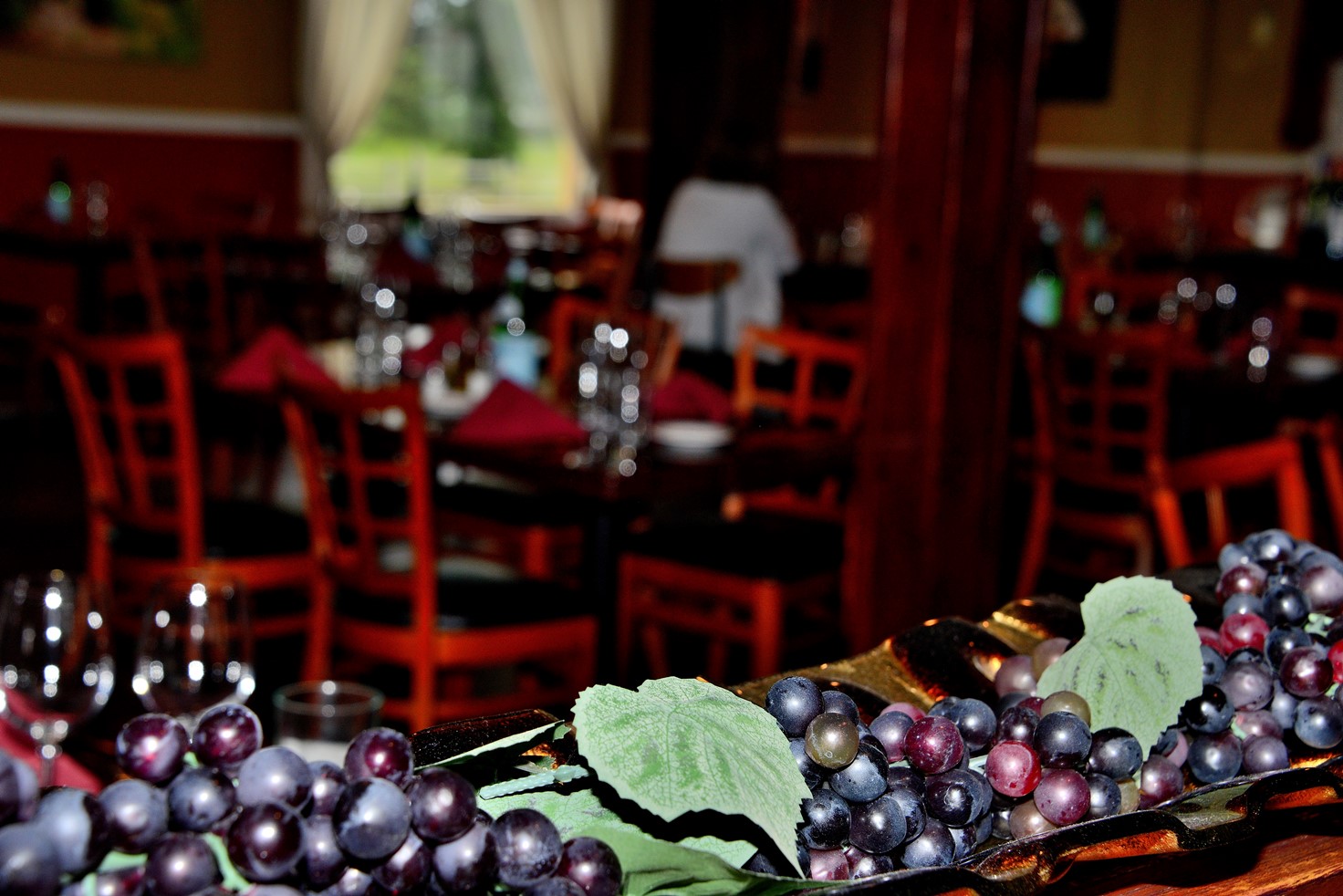 Bistro Mediterranean & Tapas Bar opened in Westbrook in September of 2014, the younger sibling of the bistro of the same name in East Haven, succeeded in January 2015 by a still younger sibling of the same name in Norwalk. Owned by brothers Leonardo (pictured below) and Gabriel Carreño, all three serve Spanish-themed food and wine, with a smattering of Mediterranean, Latin-American and other influences as well.
During our wine dinner, we started out with various tapas, including nice marinated olives, diamond-shaped pieces of tortilla (Spanish potato and onion omelet), toasts topped with the elements of a Caprese salad and bacon-wrapped figs filled with blue cheese. The subsequent courses included a lobster and mixed seafood salpicón (cold salad), grilled halibut in pineapple vinaigrette served over a mango and avocado salad, duck crepes in a Rioja red wine reduction, cochinillo (roast suckling pig) in orange sauce over potato confit, and brazo Gitano, literally "gypsy's arm," a jelly-roll-style cake.
Supplied by Shore Discount Liquors in Deep River, the wines were primarily from Grupo Bodegas Olarra, a Riojan wine producer of whom I have long been a fan. Representing these wines was Juan Carlos Rodriguez, who spoke informedly and passionately about them. In sequence, we enjoyed an NV Ondarre Cava; a 2014 Añares Terranova Verdejo, a 2014 Fefiñanes Albariño (not Grupo Bodegas Olarra in Rioja, but rather a tremendous Rías Baixas winery), a 2012 Ondarre Creator and a 2005 Cerro Añon Gran Reserva. We finished with a modestly priced but beautiful La Cartuja Mistela Moscatel Dulce dessert wine (also not Grupo Bodegas Olarra, but rather from Valencia).
In rough sequence, photos depict foods and wines from the special dinner, and guests who were both participating and dining from the regular menu. I can hardly think of a nicer way to spend an evening!
THE VERDICT: Even without the addition of the great wines of Bodegas Olarra supplied by Shore Discount Liquors, a meal at Bistro Mediterranean is bound to be an enjoyable experience.
FEEDBACK: Tell us about your experiences at Bistro Mediterranean.
CONTACT INFO: Bistro Mediterranean, 704 Boston Post Road, Westbrook, 860-577-5054; 383 Main Street, East Haven, 203-467-2500; 36 Westport Avenue, Norwalk, 203-939-1289; bistromediterraneanandtapasbar.com
Shore Discount Liquors, 211 Main Street, Deep River; 860-526-5197
Bodegas Olarra, Av. Medavía, 30, 26009 Logroño, La Rioja, Spain; 34-941-23-52-99; grupobodegasollara.com