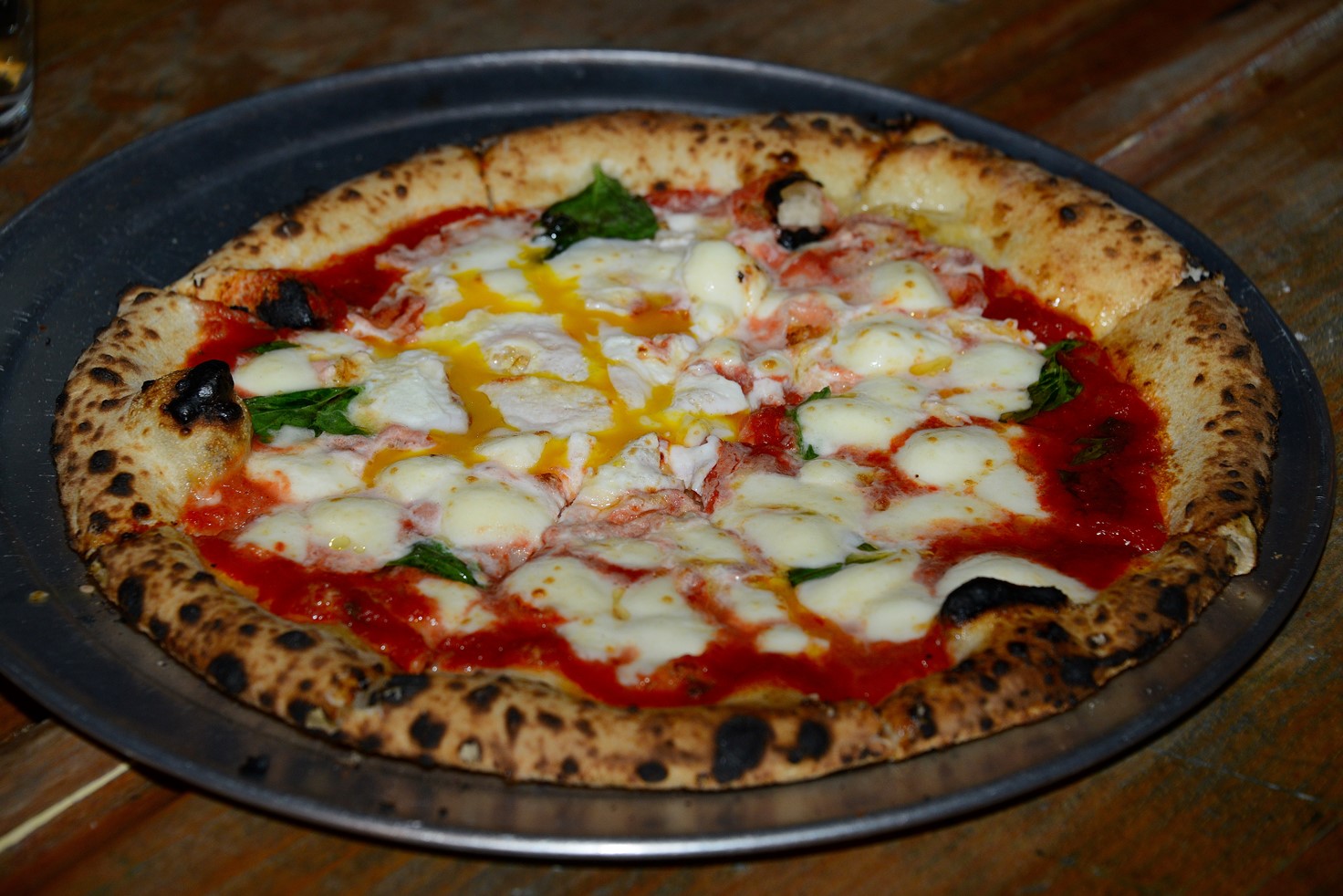 It turns out you don't have to go to Naples, or at least New Haven, for world-class pizza any more. With Amore Cucina & Bar in Stamford, six-time world pizza champion Bruno DiFabio has got you covered!
Actually, Amore Cucina represents a return by 11-time restaurateur and Food Network star to his roots. It was at the former Amore Restaurant in the Springdale neighborhood of Stamford that DiFabio made his first pizza dough as a teenager more than 25 years ago. Now he has brought incredibly good pizza back to his early stomping grounds.
DiFabio actually makes multiple styles of pizza and utilizes multiple types of ovens, as Amore Cucina's website explains: His popular Pizza Romana [is] a square pie that uses the "Poolish" dough method of a 72-hour fermentation process and is cooked in a gas-fired brick floor oven. From the wood-fired pizza oven comes Pizza Napoletana, the style of pizza that first won Bruno The World Pizza Cup in Naples, Italy in 2008. The dough method is "in giornata," which means it's made and used in the same day, mixed, cut, balled, and matured during an eight-hour fermentation process at room temperature in Neapolitan wooden dough boxes. The pie is blistered/charred by the 900-degree Cirigliano wood burning oven, which gives it its great flavor, and a sixty-second cook time leaves the integrity, chewy texture and essence of the ingredients intact.
I can show you pretty pictures of DiFabio's pizza, but you won't fully "get it" until you try it yourself. In the meantime, keep in mind that Amore Cucina actually offers far more than pizza. Just some of the delights you may spot in the photographs below include: tuna crudo, octopus puttanesca, arugula salad with braised beet purée, several types of pasta, chicken scarpariello, pork ossobuco and a couple of delicious desserts. You'll also see a shot of one of his incredible fermenting doughs.
Stamford just keeps getting better!
THE VERDICT: Even without DiFabio's incredible pizzas, this would be a special restaurant, but add in his beautiful pies and there's nothing else like it in Connecticut.
FEEDBACK: Tell us about your experiences at Amore Cucina & Bar.
CONTACT INFO: Amore Cucina & Bar, 921 Hope Street, Stamford; 203-357-1066; www.amorecucinastamford.com